How an online course can help you move to the next stage in your nursing career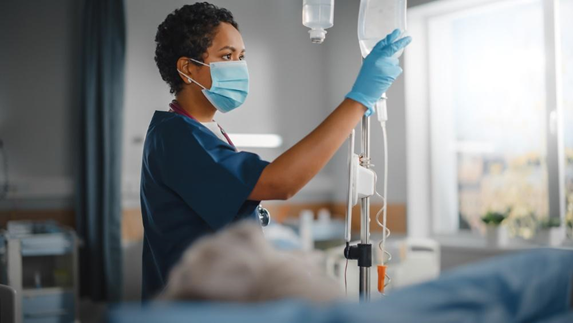 Posted On
Nursing can be an exciting career, but it can also be challenging in unexpected ways if you're not prepared. You must meet many requirements to advance in your career and become a nurse manager, nurse practitioner or nurse anesthetist.
Having strategies to help you meet these requirements while continuing your education without taking away time from your day job is essential. With an online course, you can study your way to the next stage in your nursing career in the comfort of your home.
You can also learn at your own time, with less pressure on you, and at a lower price than some traditional courses. This flexibility makes it ideal if you're looking to progress in your career and take care of family or other responsibilities while studying.
But how does an online course work? What are the benefits of online classes over traditional approaches? How can online learning boost your nursing career? Let's find out.
What is online learning?
Online learning is a type of distance education that uses digital technologies to deliver educational content and support student-teacher interaction. You can use it for both synchronous and asynchronous learning.
Synchronous learning refers to real-time interaction between students and teachers, while asynchronous learning refers to courses that are not offered in real time. Online learning can be a great way to advance your nursing career by providing flexibility and convenience.
You can access course materials, submit assignments and take exams online. There is less pressure compared to a traditional classroom setting because it's up to you to set time to study and interact with your instructor.
Types of online learning
There are many different types of online learning, each with unique features and characteristics. Here are the main types of online education you should consider.
Adaptive online learning
This type of e-learning adjusts to the learner's level. The system will identify the areas where the learner needs improvement and create a personalized learning plan.
This system benefits learners who want to focus on specific areas or have a wide range of ability levels.
Collaborative online learning
Collaborative learning is where students work together in an online environment. The collaboration may be synchronous or asynchronous, depending on the platform. These platforms include discussion boards, webinars, blogs, wikis and collaborative projects.
Fixed e-learning
This type of e-learning is similar to traditional classroom learning but takes place online. The instructor provides students with pre-recorded content, and students can access it anytime.
Synchronous e-learning
This type of e-learning occurs in real time and allows for interaction between the instructor and students. Students can ask questions and get immediate feedback.
Distributed e-learning
In this type of e-learning, instructors present information through audio and text while instructing students on how to complete tasks as they arise. Instructors will often review completed work with each student before continuing with new material.
Key features of online learning
Online learning has been around for decades and has recently become much more commonplace as people have grown to appreciate its flexibility.
As you choose between online colleges and online degrees, consider these key features of online learning programs to make an informed decision.
Online admissions
Many online programs offer open admissions, meaning that anyone with a high school diploma or GED can apply. This option makes earning a degree more accessible for nontraditional students who may not have the time or resources to attend a brick-and-mortar school.
For example, if you choose to advance your career in nursing, you may find an MSN to DNP program online. An online option can be beneficial because it opens up opportunities to take classes while working.
As with many other professions, you don't need to take time off from your job to return to school. Speak with a school counselor or advisor to see if online admissions are right for you.
They can also help you find reputable schools and assess your chances of getting accepted based on your educational background and current skillset.
Data analysis
Online learning platforms monitor students' progress and respond to their needs by providing them with the most relevant resources. They do so by keeping track of various activities, including test scores, attendance, grades, time spent on the platform, and courses completed.
Quality content
You can access some of the best content when you're learning online. The best online courses are well-researched and put together by experts in the field. That way, instructors ensure that you're getting accurate, up-to-date information.
Optimized learning platforms
Another key feature of online learning is the optimized learning platforms. An excellent online learning platform will be user-friendly and intuitive.
It will allow you to access your course materials from anywhere, at any time, and it will provide you with various tools to help you learn effectively.
Easy payment methods
Many online courses offer various payment methods, making it easy to choose the one that best suits your needs. You can often pay with a credit card, PayPal or online platforms if the organization you want to join accepts them.
Online communities and social engagement
In an online learning environment, students can connect with their instructors through social media, discussion boards and other virtual spaces. This social engagement can help to create a sense of community and encourage collaboration.
Ways that an online course can boost your nursing career
When working full-time, finding time to take continuing education required for licensure renewal or other career advancement programs can be challenging. However, with an online course, you can maneuver your way to greater heights without sacrificing your work.
There are many ways that an online course can boost your nursing career, including convenience and flexibility. Let's take an in-depth look at some of them.
Online courses are cost and time-effective
With the rising cost of tuition, it's no wonder that many students are looking for ways to save money. For instance, traditional learning comprises many expenses such as textbooks, lab fees and study materials.
These expenses can add up quickly. Some might not be feasible for a student with a tight budget. With online courses, you can still learn without paying hefty textbook prices or spending hours in a lab on campus.
Instead, you will use free online tools to complete assignments – and if you ever need help from your professor, there is always an email.
Additionally, the time needed to take an online course is much less than the time required for a traditional approach. You'll also find that institutions offer online courses all year, which means that you'll never miss out on a class because of scheduling conflicts.
You gain networking opportunities with peers
You can network with other students in your field when you take an online course. You can build relationships with these peers that can last long after the course is over.
These relationships can lead to opportunities for career advancement and collaboration. Networking can also be a great way to learn new techniques and get different perspectives on nursing care.
Sharing your experiences and expertise also helps others who require support or advice. It's a win-win situation for everyone involved.
Online learning fully adjusts to your needs
Whether you're a working professional or a stay-at-home mom, an online course can be tailor-made to fit your needs. You can study any time or at night and take as long as you need to complete the coursework.
For example, if you work a nine-to-five job but can't find time for self-study after work, you can take the same course in three months instead of six weeks. It will not feel like it took forever to get through the material because you spread it over much more time.
That way, even if you never go back to school for a degree, it doesn't mean that you can't keep learning new things. An online course gives professionals access to education without sacrificing their busy schedules.
Transfer credits and commuting
Many online courses offer the ability to transfer credits to brick-and-mortar colleges, which can be a considerable time and money saver. For example, a nursing student taking a physical MSN to DNP program at a local university may also choose to enroll in a popular online college.
In such a case, they can transfer credit hours earned from the online courses back to their brick-and-mortar school for eventual graduation.
Additionally, commuting is usually hectic. The stress of traffic jams, parking lots and getting caught in construction zones would only add to the anxiety of going to school full-time.
You can avoid commuting to campus while earning your degree by taking an online course. It means that you'll have more free time each day that's free of transportation-related stressors.
Provides instant career advancement opportunities
Sometimes, you might need to take a break from the fast-paced, time-consuming nursing schedule for personal fulfillment or goals. The best way to achieve this is by advancing your education with online courses you can complete in your spare time.
These courses will give you knowledge and skills in your area of expertise, which you can apply to your professional life. Advancing your career will also provide opportunities for increased wages and promotions to strategic leadership positions.
Quick delivery
In today's fast-paced world, getting information quickly is crucial. This is another advantage of taking an online course instead of a traditional brick-and-mortar class.
You can usually access online courses 24/7, so you can study at a time that's convenient. This flexibility is excellent for busy nurses who want to fit continuing education into their hectic schedules.
Taking the course at your time means that you won't have to miss work or cancel plans because of your studies. If you have questions or need clarification about anything in the lectures, professors are available online 24/7 and are happy to help.
Offers opportunities for personalization
Personalization refers to how tailored the course is to your individual needs. For example, some courses may offer test-taking strategies or quizzes that help you see where you might need more study time.
One of the great things about online courses is that you can customize them to fit your individual needs. You can choose a path that covers the topics you are most interested in, which will help you to fill gaps in your knowledge.
For instance, you can take a course that focuses on healthcare management if you want to learn more about leadership skills or public health. That way, you can ensure that you are getting the most out of your education and preparing yourself for success in your career.
Online learning is scalable
In a nutshell, scalability is the ability to increase or decrease the resources allocated to a project to maximize efficiency. When it comes to online learning, the most significant advantage of scalability is that you can adjust your course based on your individual needs.
If you're already working and juggling family obligations, you may only be able to dedicate certain hours per week to studying. With scalable options at your fingertips, there's no need to sacrifice what's important to make room for new challenges.
No matter how big or small your nursing career goals are, online learning can help you get there. Scalability allows you to work at your own pace and not feel like you need to spend a certain amount of time every day on coursework.
Online learning is consistent
Learning may be interrupted in a traditional classroom set-up due to a shortage of experienced teachers or other factors. You will always have access to the materials and lessons in your online course.
You can log in and complete your work whenever it's convenient without worrying about fitting class time into your schedule. That way, you can also take your course at your own pace with just enough pressure to keep you focused and on track.
Final thoughts
Completing an online course can help you boost your nursing career in several ways. It can help you learn new skills, improve your knowledge base and make new connections.
Additionally, it can give you a competitive edge when applying for jobs or promotions. Consider enrolling in an online course that will teach valuable skills you can use in your everyday practice.