Job Opportunities after Completing MD in Pediatrics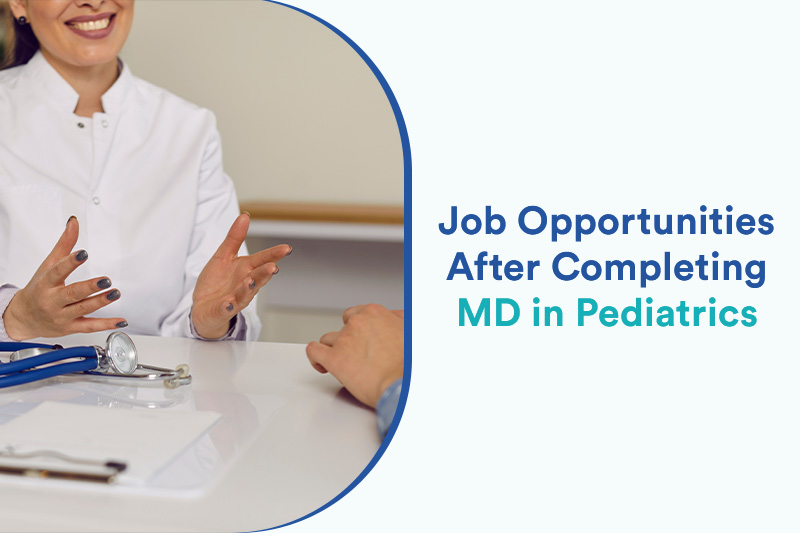 Posted On
MD in Pediatrics is a full-time three-year postgraduate course. It is a specialization in the field of pediatrics which focuses on the healthcare of infants, children, and adolescents. The course train students to understand the medical requirements of newborns, babies, kids, and teenagers and also to fulfill professional duties following ethical standards and health policy concepts.
Pediatrics is currently one of the most demanding medical specialties in India. It is always advised to consider your interests, skills, and long-term goals when choosing a career after completing MD in Pediatrics. For a successful career in pediatrics, you need to develop soft skills along with expertise in clinical training in the pediatric specialty. The qualities that will ensure the child's faith in you are patience, empathy, and politeness. Effective interpersonal and communication abilities are highly required for dealing with children and their families.
After completing the MD in Pediatrics degree, there is a wide variety of job opportunities available. Some of the common career options for MD Pediatricians are as follows:
Pediatrician: You can start a career as a practicing pediatrician in any government or private healthcare facility. Later, you can also choose to start your private practice or work collaboratively with other medical professionals. As a pediatrician, you provide primary care to infants, children, and adolescents.
Academic Pediatrician: If you are interested in teaching and research, then you have the option to pursue your career as an Academic Pediatrician. In this career prospect, you work in medical colleges, universities, and medical centres, where you teach medical students, residents, and fellows along with performing the primary duties of a pediatrician. Academic pediatricians also get engaged in research related to the specialty.
Pediatric Subspecialist: You have the option to pursue higher education in the pediatric specialty. Pediatrics offers a variety of subspecialties, such as Pediatric Cardiology, Pediatric Nephrology, Pediatric Neurology, Pediatric Psychiatry & Child Counseling, Pediatric Pulmonology, Pediatric Intensive Care, Pediatric Gastroenterology, Pediatric Hepatology, Adolescent Medicine, and many more. After becoming a subspecialist, you provide specialized care to children with complex medical conditions.
Pediatric Emergency Medicine Physician: As a Pediatric Emergency Medicine Physician, you work in emergency departments, where you treat children with minor injuries and illnesses and hence, provide prompt medical care. You are provided with extensive training to handle pediatric emergencies and stabilize critically ill children.
Roles at Public Health or Global Health Settings: Pediatricians also have the option to work in public or global health settings, may it be NGOs, government health agencies, and international health organizations. You can get employed in various medical professional positions which also involve addressing public health concerns, implementing health and awareness programs, and improving healthcare access for children.
Researcher: MD Pediatricians interested in research can pursue a career as a researcher in the pediatric specialty. It involves conducting clinical trials, studying the patterns of pediatric illnesses, contributing to medical advancements in the pediatric field, and much more. These research opportunities are available at academic institutions, pharmaceutical companies, and research institutions.
While pursuing Post graduation in Pediatrics, a medical student can subscribe to a good Pediatrics MD online course to enhance their learning. The course encourages concept-based and approach-based learning. The Pediatrics MD Course provides conceptual clarity over the subject with access to Pediatrics MCQs, video lectures, and benchmark trials.